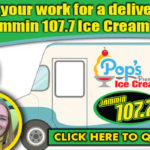 THE JAMMIN1077 ICE CREAM TRUCK IS MAKING THE ROUNDS TO YOUR WORKS' NEIGHBORHOOD!
POPS PREMIUM ICE CREAM IN GALES FERRY
IS SCOOPING YOUR OFFICE OR WORKPLACE A FRESH CONE EVERY WEEK!
ENTER HERE!
PEBBLES & BOOMER ARE TAKING THE JAMMIN ICE CREAM TRUCK TO A NEW JOB EVERY FRIDAY AFTERNOON!
---